Campaign Video
and you'll receive our popular
newsletter with latest news,
videos, commentary & more.
Help Us Spread The Word!
---

HELP US GO VIRAL!!!!
We no longer have the
luxury of time.


---
Who's Online
Guest Users: 10
Contact Us
email us
P.O. Box 1086
Crestone, CO 81131
---
---
---
---
---
---
Be a courageous
American and
inspire others to
take a stand by
signing the Pledge to VOTE
OUT ALL INCUMBENTS! PLEDGE TO NEVER REELECT!
Download the Free Uncle
Sam Poster
and hand them
out EVERYWHERE
NEW Campaign Business Cards
Download here!

Site Navigation
---
---
Home Page
Project Directory
Top Stories
Latest News
Site Help
Full Story Archives
---
---

Interviews
KTAO Organization Info
Project Info Only Index
5 Minute Audio Summary
Radio Interview
Nutshell Project Summary
Simple Two Step Plan
Full Project Summary
FAQs
Promo Videos
FREE Uncle Sam Poster
Banner Ads
Join or Start A Meetup Group
Media Inquiries
All Federal Incumbents
All State Incumbents
Kickem Community Forum
Take the KTAO Pledge
What People Are Saying
Bumper Stickers & More
Please Donate
---
It's Time To Listen
To Your Elders!
Please Support Us With A Purchase
We have no control over
what ads google displays
Please Support Us With A Purchase
Views: 1,328


The Economic Collapse
February 21, 2012
The decay of society is so much harder to quantify than economic decline is. The government keeps lots of statistics on things like unemployment and inflation, but it really does not keep track of how sick and twisted people are becoming. Most of us recognize that the character of the American people has changed dramatically over the decades, but unlike the national debt, you can't easily point to a chart or a graph to show exactly how bad things are getting. In this article, my approach will be to point you to various "signs" of social decay. Signs tell us where we are at now and where we are headed. Some of the signs that I will use will be statistics while others will simply consist of anecdotal evidence. Yes, anecdotal evidence is not perfect, but when you put enough of it together it starts to paint a pretty clear picture of what is going on out there. America is becoming a truly frightening place. Our cities our decaying, thieves are becoming bolder, you never know who you can trust and everyone seems depressed. America is decomposing right in front of our eyes, and it is time that we all admitted it.
In the old days, if you met a stranger out on the streets you knew that you could almost certainly trust that person. But these days if you let your child wander one aisle over while you are shopping at Wal-Mart there is a chance that someone will try to abduct her.
Something has changed.
In our major cities, if you walk up to someone at random there is a decent chance that person will be a pervert or a sicko, and most Americans know that this is true at a gut level. Almost everyone is very leery of "strangers" these days. It has gotten to the point where we are all afraid of one another.
Just try this some time….
In a major U.S. city, walk right up to people on the street, look them in the eyes and try to introduce yourself.
What will happen when you do that?
In many instances, people will literally run away from you.
We are scared to death to interact with people that we do not know, and the reality is that those fears are way too often justified.
The character of the American people is decaying at a rapid pace, and the evidence of this is all around us.
The following are 10 signs that America is decomposing right in front of our eyes….
#1 As the economy crumbles, in many U.S. cities desperate people are increasingly resorting to violent acts in an attempt to survive. So far this year, violent crime in Washington D.C. has risen by 40 percent. Robberies at gunpoint have more than doubled compared to the same time period last year.
And as I wrote about recently, justifiable homicide in Detroit rose by a staggering 79 percent during 2011, and the rate of self-defense killings in Detroit is now 2200% above the national average.
Views: 1,285


The Economic Collapse
February 14, 2012
Do you want to know what the future of America is going to look like? Just check out what is happening to Detroit. The city of Detroit was once one of the greatest industrial cities in the history of the world, but today it is a rotting, decaying, post-apocalyptic hellhole. Nearly half the men are unemployed, nearly half the population is functionally illiterate, more than half of the children are living in poverty and the city government is drowning in debt. As economic conditions have gotten worse, crime has absolutely exploded. Every single night in Detroit there are frightening confrontations between desperate criminals and exasperated homeowners. Unfortunately, the police force in Detroit has been dramatically reduced in size. When the police in Detroit are called, they often show up very late if they even show up at all. Detroit has become a lawless hellhole where violence is the currency of the streets. If you want to survive in Detroit, you better be ready to fight because there are hordes of desperate criminals that are quite eager to take literally everything that you have got. But don't look down on Detroit too much, because what is happening in Detroit will soon be happening all over America.
The following are 20 things we can learn about the future of America from the death of Detroit….
Views: 9,445


A satirical short film taking a look at the national debt and how it applies to just one family. Starring Brian Stepanek & Eddie Jemison, Produced by Seth William Meier, DP/Edited by Craig Evans, 1st AC Brian Andrews, Sound Mixer Gus Salazar, Written and Directed by Brian Stepanek.
Views: 916


The Economic Collapse
January 5, 2012
We have all been lied to. For decades, the leaders of both major political parties have promised us that they can fix our current system and that they can get our national debt under control. As the 2012 election approaches, they are making all kinds of wild promises once again. Well you know what? It is all a giant sham. The United States has gotten into so much debt that there will be no coming back from this. The current system is irretrievably broken. 30 years ago the U.S. debt was a horrific crisis that was completely and totally out of control. If we would have dealt with it back then maybe we could have done something about it.

But now it is 15 times larger, and we are adding more than a trillion dollars to the debt every single year. The facts that you are about to read below should set America on fire with anger. Please share them with as many people as you can. What we are doing to our children and our grandchildren is absolutely nightmarish. Words like "abuse", "financial rape", "theft" and "crime" do not even begin to describe what we are doing to future generations. We were the wealthiest nation on earth, but it wasn't good enough just to squander all of our own money. We had to squander the money of our children and our grandchildren as well. America has been so selfish and so self-centered that it is hard to argue that we don't deserve what is about to happen to this country. We have stolen the future of America, and yet we strut around as if we are the smartest generation that ever walked the face of the earth.
All of this prosperity that we see all around us is just an illusion. It is a false prosperity that has been purchased by the biggest mountain of debt in the history of the world.
Did you know that if you added up all forms of debt in the United States and divided it up equally that every single family in the country would owe more than $683,000?
We are a nation that is absolutely addicted to debt, and the U.S. debt crisis threatens to destroy everything that our forefathers built.
Yes, everything may seem fine for the moment, but what do you think would happen if the federal government suddenly adopted a balanced budget?
1.3 trillion dollars a year would be sucked right out of the economy and we would be looking at an "economic readjustment" that would be mind blowing.
Enjoy this false prosperity while you can, because it is not going to last.
Debt is a very cruel master, and our day of reckoning is almost here.
The following are 34 shocking facts about U.S. debt that should set America on fire with anger….
#1 During fiscal year 2011, the U.S. government spent 3.7 trillion dollars but it only brought in 2.4 trillion dollars.
#2 When Ronald Reagan took office, the U.S. national debt was less than 1 trillion dollars. Today, the U.S. national debt is over 15.2 trillion dollars.
#3 During 2011, U.S. debt surpassed 100 percent of GDP for the first time ever.
Views: 1,250


America is getting poorer. The U.S. government has just released a bunch of new statistics about poverty in America, and once again this year the news is not good. According to a special report from the U.S. Census Bureau, 46.2 million Americans are now living in poverty.
The number of those living in poverty in America has grown by 2.6 million in just the last 12 months, and that is the largest increase that we have ever seen since the U.S. government began calculating poverty figures back in 1959. Not only that, median household income has also fallen once again. In case you are keeping track, that makes three years in a row. According to the U.S. Census Bureau, median household income in the United States dropped 2.3% in 2010 after accounting for inflation. Overall, median household income in the United States has declined by a total of 6.8% once you account for inflation since December 2007. So should we be excited that our incomes are going down and that a record number of Americans slipped into poverty last year? Should we be thrilled that the economic pie is shrinking and that our debt levels are exploding? All of those that claimed that the U.S. economy was recovering and that everything was going to be just fine have some explaining to do.
Back in the year 2000, 11.3% of all Americans were living in poverty. Today, 15.1% of all Americans are living in poverty. The last time the poverty level was this high was back in 1993.
However, it is important to keep in mind that the government definition of poverty rises based on the rate of inflation. If inflation was still calculated the way that it was 30 or 40 years ago, the poverty line would be much, much higher and millions more Americans would be considered to be living in poverty.
So why is poverty in America exploding? Who is getting hurt the most? How is America being changed by this? What is the future going to look like if we remain on the current path?
Let's take a closer look at poverty in America….
Views: 899


D.C. Has A Different Economy From The Rest of America
Jason Linkins reports that D.C. is the only place where people think the economy is just dandy, since that's where the politicos, lobbyists, and people looking for big handouts live:
A less remarked-upon bit of polling from Gallup is this bit here, in which they set out to gauge the nation's "economic confidence." What they found was remarkably consistent — state by state, there are more people lacking in confidence than there are people who feel the economy has turned around.So once again, the real story is, "Terrible Economy Presents Problems For Ordinary Americans." But if you don't see those stories, there's a reason why, and it has everything to do with the one outlier in Gallup's findings. If you want a hint as to where that outlier is, consider this: every single one of this poll's respondents said they were currently employed. In every state, Gallup spoke to people who are at least fortunate enough to have a job ("87,634 employed adults, aged 18 and older, conducted from January-June 2011″).
So with that in mind, what part of America do you imagine has the highest concentration of employed people who don't have personal relationships with people who are unemployed?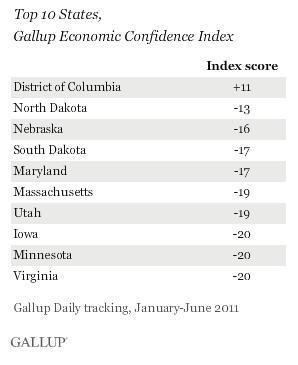 Views: 1,336


By: David Thomas
Chief Executive Officer
Equitas Capital Advisors LLC
The U.S. Congress sets a federal budget every year in the trillions of dollars. Few people know how much money that is so we created a breakdown of federal spending in simple terms. Let's put the 2011 federal budget into perspective:
U.S. income: $2,170,000,000,000
Federal budget: $3,820,000,000,000
New debt: $ 1,650,000,000,000
National debt: $14,271,000,000,000
Recent budget cut: $ 38,500,000,000 (about 1 percent of the budget)
It helps to think about these numbers in terms that we can relate to. Let's remove eight zeros from these numbers and pretend this is the household budget for the fictitious Jones family.
Total annual income for the Jones family: $21,700
Amount of money the Jones family spent: $38,200
Amount of new debt added to the credit card: $16,500
Outstanding balance on the credit card: $142,710
Amount cut from the budget: $385
So in effect last month Congress, or in this example the Jones family, sat down at the kitchen table and agreed to cut $385 from its annual budget. What family would cut $385 of spending in order to solve $16,500 in deficit spending?
It is a start, although hardly a solution.
Now after years of this, the Jones family has $142,710 of debt on its credit card (which is the equivalent of the national debt).
You would think the Jones family would recognize and address this situation, but it does not. Neither does Congress.
The root of the debt problem is that the voters typically do not send people to Congress to save money. They are sent there to bring home the bacon to their own home state.
To effect budget change, we need to change the job description and give Congress new marching orders.
It is awfully hard (but not impossible) to reverse course and tell the government to stop borrowing money from our children and spending it now.
In effect, what we have is a reverse mortgage on the country. The problem is that the voters have become addicted to the money. Moreover, the American voters are still in the denial stage, and do not want to face the possibility of going into rehab.



Views: 16,188





From WTFNoway.com


ONE HUNDRED DOLLARS
$100 - The Most counterfeited money denomination in the world.
Keeps the world moving.



TEN THOUSAND DOLLARS
$10,000 - Enough for a great vacation or to buy a used car.
Approximately one year for the average human on earth.


ONE MILLION DOLLARS
$1.000,000 - Not as big of a pile as you thought, huh?
Still, this is 92 years of work for the average human on earth.
Views: 1,563


40 Facts That Prove The Working Class Is Being Systematically Wiped Out
Without an abundance of good jobs, the middle class in the United States is going to shrivel up and die. Right now, rampant unemployment is absolutely killing communities all over America. Hopelessness and poverty are exploding and many are now wondering if we are actually witnessing the slow death of the middle class. There simply are not nearly enough "good jobs" to go around anymore, and even many in the mainstream media are referring to this as a "long-term structural problem" with the economy. The only thing that most working class Americans have to offer in the marketplace is their labor. If nobody will hire them they do not have any other ways to provide for their families. Well, there is a problem. Today wealth has become incredibly centralized. The big corporations and the big banks dominate everything. Thanks to incredible advances in technology and thanks to the globalization of our economic system, the people with all the money don't have to hire as many ordinary Americans anymore. They can hire all the labor they want on the other side of the globe for a fraction of the cost. So the rich don't really have that much use for the working class in America anymore. The only thing of value that the working class had to offer has now been tremendously devalued. The wealthy don't have to pay a lot for physical labor anymore. Thousands of our factories and millions of our jobs have been shipped overseas and they aren't coming back. The big corporations are thriving while tens of millions of ordinary Americans are deeply suffering. Almost all of the wealth being produced by our economy is going to a very centralized group of people at the very top of the food chain. The rich are getting richer and the working class is being systematically wiped out.
Views: 1,576


There is no reason for continued taxation, the government has a secret slush fund and in the meantime is telling you that they're broke.

The truth is all forms of government are now corporate entities whose sole reason for being is to grow and grow and make more and more profits OFF US. Government used to be pay-as-you-go operation intended to serve some public need. Now the corporate government entities have been all corporatized and they take all the revenue they collect, set aside a portion for the budget they actually need to operate and invest the rest. All we are told about is the budget, not about all the money they actually take and not about all the money made off the investments of our tax dollars. If they spend more than the money set aside for their budget they tell us they are running a deficit. They don't tell you that they have a buttload of money going unreported.




Please Make A One Time Donation
You can send a check
or money order to:
The KTAO Project
P.O. Box 1086
Crestone, CO 81131
or donate online:

Essential Reading
Declaration of Independence
The Constitution
The Bill of Rights
Citizen's Jury Handbook
Debt Is Destroying Us
Most people don't know the Federal Reserve is controlled by the largest private banks. They are using their control of the Fed to destroy the dollar, our economy and wipe out the middle class so they can replace it with a system and currency they have even MORE control of. If we don't shut down the bankers, the Federal Reserve, this nation is history! The Congress can REPEAL THE FEDERAL RESERVE ACT and return control over our currency to "We The People." We have to take back control of Congress and DEMAND THIS HAPPEN in the upcoming election!
Please Support Us With A Purchase
We have no control
over what ads google displays.