Campaign Video
and you'll receive our popular
newsletter with latest news,
videos, commentary & more.
Help Us Spread The Word!
---

HELP US GO VIRAL!!!!
We no longer have the
luxury of time.


---
Who's Online
Guest Users: 7
Contact Us
email us
P.O. Box 1086
Crestone, CO 81131
---
---
---
---
---
---
Be a courageous
American and
inspire others to
take a stand by
signing the Pledge to VOTE
OUT ALL INCUMBENTS! PLEDGE TO NEVER REELECT!
Download the Free Uncle
Sam Poster
and hand them
out EVERYWHERE
NEW Campaign Business Cards
Download here!

Site Navigation
---
---
Home Page
Project Directory
Top Stories
Latest News
Site Help
Full Story Archives
---
---

Interviews
KTAO Organization Info
Project Info Only Index
5 Minute Audio Summary
Radio Interview
Nutshell Project Summary
Simple Two Step Plan
Full Project Summary
FAQs
Promo Videos
FREE Uncle Sam Poster
Banner Ads
Join or Start A Meetup Group
Media Inquiries
All Federal Incumbents
All State Incumbents
Kickem Community Forum
Take the KTAO Pledge
What People Are Saying
Bumper Stickers & More
Please Donate
---
It's Time To Listen
To Your Elders!
Please Support Us With A Purchase
We have no control over
what ads google displays
Please Support Us With A Purchase
Views: 1,185


Forget a chip in your forehead – the 'mark of the beast' is the cell phone
By Paul Joseph Watson
Prison Planet.com
April 10, 2012
The development of a new microchip for cell phones that knows the user's location to within a few centimeters confirms the fact that contrary to biblical fears about mandatory implantable microchips, people have willingly exchanged their privacy for convenience and that the cell phone itself is the de facto "mark of the beast".
"Broadcom has just rolled out a chip for smart phones that promises to indicate location ultra-precisely, possibly within a few centimeters, vertically and horizontally, indoors and out," reports MIT Technology Review.
"In theory, the new chip can even determine what floor of a building you're on, thanks to its ability to integrate information from the atmospheric pressure sensor on many models of Android phones. The company calls abilities like this "ubiquitous navigation," and the idea is that it will enable a new kind of e-commerce predicated on the fact that shopkeepers will know the moment you walk by their front door, or when you are looking at a particular product, and can offer you coupons at that instant."
Over 82% of Americans own cell phones, with around half of these being smart phones. In the near future, the majority of Americans will own smart phones that will have the ability to track their location down to a few centimeters.
Views: 3,116


'Internet of things' also a surveillance tool for authorities
Paul Joseph Watson
Prison Planet.com
March 23, 2012
Six years ago we warned readers that Google was planning to use the ambient background noise of a person's environment to spy on their activities in order to direct targeted advertising at them through technological devices. That has now come to fruition with the search engine giant filing a petition for "Advertising based on environmental conditions."
"As that title implies, it's not just background sounds that could be used to determine what adverts you seen on your mobile phone. The patent also describes using 'temperature, humidity, light and air composition' to produced targeted adverts," reports the Daily Mail.
In other words, Google is going to spy on your private conversations, music preferences, TV watching habits, your choice of radio station, and whatever else is happening in your immediate environment, in order to build a psychological profile of your entire life.
The current patent relates to smart phones, but any Inter-connected device could ultimately be used for the same purpose.
Indeed, back in 2006 when we first reported on the issue, Google was already finalizing plans to spy on an individual's ambient background environment by means of the microphone embedded in their personal computer.
Views: 826


BeforeItsNews.com
March 20, 2012

The dismissals over President Obama's latest Executive Order for National Defense Resources Preparedness as just "an update" miss the point. We've hit a nerve on Before It's News with this story with almost 60,000 views this morning. People are upset, angry and disappointed. Why? Because a normally arcane proclamation is seeing the light of day, exposing the tip of a vast "shadow government" of black budgets and rules that go beyond anything spelled out by the Constitution.
Ed Morrissey at Hot Air played down the significance of this order

"In fact, that's almost entirely what it is. The original EO dealing with national defense resources preparedness was issued in 1939 (EO 8248) according to the National Archives. It has been superseded a number of times, starting in 1951 by nearly every President through Bill Clinton, and amended twice by George W. Bush. Barack Obama may be arrogant, and the timing of this release might have looked a little strange, but this is really nothing to worry about at all."
Nothing to see here, move along. Actually, Ed, this is a HUGE deal and it's not going to go away that quickly.
Views: 992


By Ron Paul
Prisonplanet.com
March 20, 2012
It is ironic but perhaps sadly appropriate that Attorney General Eric Holder would choose a law school, Northwestern University, to deliver a speech earlier this month in which he demolished what was left of the rule of law in America.




Views: 4,478





Before It's News
March 19, 2012
Republican Congressman Ron Paul from Texas, states on his website:
"Buried deep within the over 1,000 pages of the massive US Health Care Bill (PDF) in a "non-discussed" section titled: Subtitle C-11 Sec. 2521— National Medical Device Registry, and which states its purpose as . . . He quotes that part of the law and then goes on to say: "In "real world speak", according to this report, this new law, when fully implemented, provides the framework for making the United States the first Nation in the World to require each and every one of its citizens to have implanted in them a radio-frequency identification microchip for the purpose of controlling who is, or isn't, allowed medical care in their country".
Read the entire story at: www.patriotactionnetwork.com/forum/topics/another-hidden-secret-in
And now we come to it. On Sunday March 21, 2010 the Senate Healthcare bill HR3200 was passed and signed into law the following Tuesday. Like I said before, there are a legion of horrible and just plain evil aspects to this bill and I'm sure you've heard a lot them by now. I don't want to discount them but what cannot be missed here is this new law now opens a prophetic door on a magnitude not seen since the reformation of Israel.



Views: 1,415





By Brandon Turbeville
Activist Post
March 18, 2012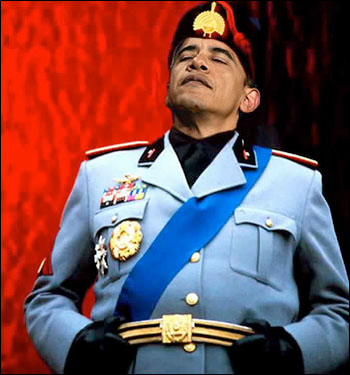 In a stunning move, on March 16, 2012, Barack Obama signed an Executive Order stating that the President and his specifically designated Secretaries now have the authority to commandeer all domestic U.S. resources including food and water. The EO also states that the President and his Secretaries have the authority to seize all transportation, energy, and infrastructure inside the United States as well as forcibly induct/draft American citizens into the military. The EO also contains a vague reference in regards to harnessing American citizens to fulfill "labor requirements" for the purposes of national defense.

Not only that, but the authority claimed inside the EO does not only apply to National Emergencies and times of war. It also applies in peacetime.

The National Defense Resources Preparedness Executive Order exploits the "authority" granted to the President in the Defense Production Act of 1950 in order to assert that virtually every means of human survival is now available for confiscation and control by the President via his and his Secretaries' whim.

The unconstitutionality of the overwhelming majority of Executive Orders is well established, as well as the illegality of denying citizens their basic Constitutional and human rights, even in the event of a legitimate national emergency. Likewise, it should also be pointed out that, like Obama's recent Libyan adventure and the foregone conclusion of a Syrian intervention, there is no mention of Congress beyond a minor role of keeping the allegedly co-equal branch of government informed on contextually meaningless developments.



Views: 1,186





By Stephen C.Webster
Raw Story
March 16, 2012


A new feature story in this month's Wired blows the lid off plans for a massive new National Security Agency data center in Utah that represents the resurrection of a program that Congress killed in 2003, known as "Total Information Awareness," targeting literally all electronic communications all over the world — including those made by American citizens.
The proposal was to build computing systems that could suck up every electronic communication on the planet and filter them through a smart super-computer that would flag certain conversations, emails, transactions and other items of interest for further review. It was a program so monstrous in scope that after a brief legislative battle, Congress imposed strict regulations on the type of technology that could accomplish those ends, prohibiting it from ever being used against Americans.
But if well sourced intelligence reporter James Bamford is to be believed, as of this year, their efforts to stop it are moot.
Views: 1,605


Bodily functions are now potential indicators of terrorism
By Paul Joseph Watson
PrisonPlanet.com
March 16, 2012
Infowars has obtained a document from the New Jersey Office of Homeland Security & Preparedness that lists banal bodily activities such as yawning, staring and goose pumps as "suspicious activity" indicative of terrorism.
The document (PDF), entitled Terrorism Awareness and Prevention, is presented as a guide for both "residents and workers of New Jersey," along with employees of federal, state and local agencies, on how to "assist in combating terrorism" by identifying "unusual or suspicious activities and behaviors."
The guide encourages participants to "look for signs of nervousness in the people you come in contact with." "Signs will become particularly evident in a person's eyes, face, next and body movements."
The document then lists examples of suspicious behavior indicative of terrorism, which include, "Exaggerated yawning when engaged in conversation," "glances," "cold penetrating stare," "rigid posture," and "goose bumps".
Views: 2,589


By J. D. Heyes
NaturalNews
March 16, 2012
The Department of Homeland Security (DHS) is set to begin construction on a new high-risk bio-weapons research facility on the campus of Kansas State University in Manhattan, though critics say the decision is fraught with risk because of the potential for damage from nearby earthquake fault lines.
In a statement on its Web site, DHS said it needs the new facility to replace an aging one located at Greenport, N.Y. That facility, known as the Plum Island Animal Disease Center, has been in operation since 1954 and is nearing the end of its useful life.
According to the department, $54 million has been approved for the construction of the proposed National Bio and Agro-Defense Facility. The new facility will feature research on biolevel 3 and 4 viruses – some without any known cures – and other potentially dangerous materials, though department officials have downplayed any potential threats.
The problem, critics say, is the location and the inherent seismic and weather-related disasters that could befall the facility, wreaking havoc on the surrounding population and beyond – issues the government seems to be downplaying.
Painting lipstick on a pig
"The United States works on the frontline of livestock animal health research to defend against foreign animal, emerging, and zoonotic diseases that could threaten the U.S. livestock industry, food supply, and public health," says Homeland Security Under Secretary for Science and Technology Tara O'Toole, in a departmental risk assessment posted online. "To address congressional requirements, this detailed, updated risk assessment reaffirms that we can build a safe and secure facility to meet this important mission."
Views: 1,661


Pro-life demonstrators, including teenage girls, were strip searched, shackled by officers who said they could "rot" in cells
By Steve Watson
Prisonplanet.com
March 9, 2012
State police in Maryland have been ordered to undergo training on the First and Fourth Amendments following a 2008 incident during which 18 pro-life protesters were arrested, shackled and strip searched.
The incident occured when members of the group Defend Life peacefully demonstrated on public property in Hartford County in August, 2008, as part of their "Face the Truth" campaign.
Around a dozen State officers arrived on the scene and told the protesters that they did not have a permit and would be arrested unless they packed up and left.
When asked what specific ordinance said the demonstrators needed a permit to protest, one officer responded "I'm not getting into it at five o'clock at night… I'm a State police officer, I know the law – THAT'S IT."

Part of the incident was captured on film.
Please Make A One Time Donation
You can send a check
or money order to:
The KTAO Project
P.O. Box 1086
Crestone, CO 81131
or donate online:

Essential Reading
Declaration of Independence
The Constitution
The Bill of Rights
Citizen's Jury Handbook
Debt Is Destroying Us
Most people don't know the Federal Reserve is controlled by the largest private banks. They are using their control of the Fed to destroy the dollar, our economy and wipe out the middle class so they can replace it with a system and currency they have even MORE control of. If we don't shut down the bankers, the Federal Reserve, this nation is history! The Congress can REPEAL THE FEDERAL RESERVE ACT and return control over our currency to "We The People." We have to take back control of Congress and DEMAND THIS HAPPEN in the upcoming election!
Please Support Us With A Purchase
We have no control
over what ads google displays.