Campaign Video
and you'll receive our popular
newsletter with latest news,
videos, commentary & more.
Help Us Spread The Word!
---

HELP US GO VIRAL!!!!
We no longer have the
luxury of time.


---
Who's Online
Guest Users: 13
Contact Us
email us
P.O. Box 1086
Crestone, CO 81131
---
---
---
---
---
---
Be a courageous
American and
inspire others to
take a stand by
signing the Pledge to VOTE
OUT ALL INCUMBENTS! PLEDGE TO NEVER REELECT!
Download the Free Uncle
Sam Poster
and hand them
out EVERYWHERE
NEW Campaign Business Cards
Download here!

Site Navigation
---
---
Home Page
Project Directory
Top Stories
Latest News
Site Help
Full Story Archives
---
---

Interviews
KTAO Organization Info
Project Info Only Index
5 Minute Audio Summary
Radio Interview
Nutshell Project Summary
Simple Two Step Plan
Full Project Summary
FAQs
Promo Videos
FREE Uncle Sam Poster
Banner Ads
Join or Start A Meetup Group
Media Inquiries
All Federal Incumbents
All State Incumbents
Kickem Community Forum
Take the KTAO Pledge
What People Are Saying
Bumper Stickers & More
Please Donate
---
It's Time To Listen
To Your Elders!
Please Support Us With A Purchase
We have no control over
what ads google displays
Please Support Us With A Purchase
Views: 2,025


Susan Lindauer speaking in Seattle, Aug 2, 2011 at the Trinity Union Methodist Church. Susan is a former CIA asset, peace activist and the author of the book "Extreme Prejudice".



Views: 9,382


By George Zornick
The Nation


The prolonged September 11 remembrances have largely wrapped up—the weekend saw everything from current and former presidents remembering the tragedy to the garish commercials featuring Budweiser Clydesdales bowing before Ground Zero.
But as the rest of Washington moved on, Ralph Nader and a panel of experts who saw much of the fallout from September 11 up close held a panel in northwest DC to talk about how the government responded to the tragedies—and how that response continues to undermine crucial democratic institutions.
Views: 2,756


By Charlie Skelton

theguardian.co.uk
On the day of September 11, Charlie Skelton attends a symposium of critical thinkers in New York.
The heavy syllables of the victims' names boomed out along the streets around Ground Zero. The public were patted down, then allowed up a cramped side road to peer at a distant video screen of the memorial. They filmed the video screen on their mobile phones, filmed each other filming, and film crews filmed them filming.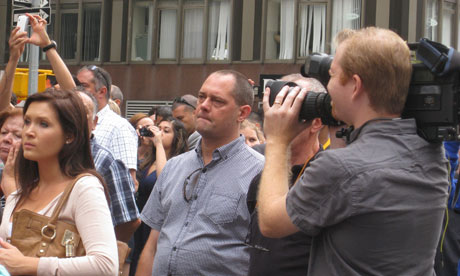 It was hardly fertile ground for grief, you'd think. And yet, the weird detachment of the moment was severed by the chanting of the names and the brief tributes of the readers. It was the daughter who said her father's friends tell her that she reminds them of him that did it for me. That, and the list of victims called Jones. Jones after Jones after Jones. Too many Joneses. I took my sniffles back up the street to Starbucks.
And from Starbucks, I went down the rabbit hole. I found myself at a conference on Walker Street called 'How The World Changed After 9/11'. It was packed, but I managed to slide in at the back, to hear a guy called Webster Tarpley chant his own list of names. The names of the 46 military exercises and hijack drills (called things like 'Vigilant Guardian') that were actually taking place on the morning of September 11. "The greatest density of drills in US military history," Tarpley said.
Fake radar blips, dummy hijacks, dummy attacks, fighter jets sent off to Turkey, the skies left unprotected, with the FBI's top anti-terror experts stuck on a training exercise in California. The drills, said Tarpley, were important, because not only did they weaken and confuse US air defence, but there was also a military drill for each major component of the 9/11 attacks. The drills were cover, and the dummy threats were made real.
September 11, he argues, was a coup carried out by a rogue network within the US military and government. A cabal of fascists, working with (and for) a banking oligarchy, "the old boys of Wall Street".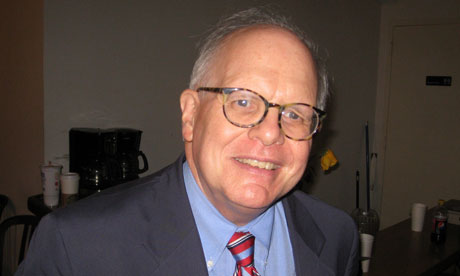 Webster Tarpley
Views: 1,692


Washington's Blog
The Co-Chair of the Congressional Inquiry into 9/11 and former Head of the Senate Intelligence Committee, Bob Graham, previously stated that an FBI informant had hosted and rented a room to two hijackers in 2000 and that, when the Inquiry sought to interview the informant, the FBI refused outright, and then hid him in an unknown location, and that a high-level FBI official stated these blocking maneuvers were undertaken under orders from the White House (confirmed here).
Today, Graham called for a new 9/11 investigation. As Raw Story notes:
Graham on Monday called on the U.S. government to reopen its investigation into 9/11after a report found that links between Saudi Arabia and the hijackers were never disclosed by the FBI to the 2002 joint Congressional intelligence committee investigating the attacks.

"In the final report of the congressional inquiry, there was a chapter related primarily to the Saudi role in 9/11 that was totally censored, every word of the chapter has been withheld from the public," Graham said on MSNBC's The Dylan Ratigan Show.

"Some of the other questions we ought to be asking are if we know that the Saudis who lived in San Diego and now apparently in Sarasota received substantial assistance, what about the Saudis who lived in Phoenix, Arizona? Or Arlington, Virginia? … What was happening in those places?"

"I believe these are questions for which there are definitive answers, but the American people and largely their elected representatives have been denied that information."
"I believe these are questions for which there are definitive answers, but the American people and largely their elected representatives have been denied that information."
Views: 8,136


9/11: Explosive Evidence – Experts Speak Out:
ae911truth.net

"Learn Why 43 Technical & Building Professionals are Calling for a New Investigation into the Events of 9/11! Watch 9/11, Explosive Evidence – Experts Speak Out and Learn Why You Should Too!"

Just a mere and simple utterance of the word, 9/11, or September 11th, or any other various related terms can stir up a caldron of emotion – and it runs the entire spectrum. From steadfast defenders of the government's official explanation of what happened on 9/11 to those arguing theories of a deep, dark, evil conspiracy. There is no shortage of passion.

Regardless of your personal beliefs about what happened on 9/11 we can all agree (as we've been told over and over again) that 9/11 has indeed fundamentally changed the world we all live in and experience every day.

This would all be well and good if there was no doubt about what happened. If the official story was rock solid and beyond reasonable doubt, we could all stand up in unison, proudly, pound our chests with righteous indignation and get the bad guys without a second thought.

Unfortunately this is not the case and there are at least 43 highly trained, skilled technical and building professionals who after having examined the evidence not only have a reasonable doubt about the official story, say that there is absolutely no way that those buildings could have come down the way we were told that they did!

Watch 9/11 Explosive Evidence – Experts Speak Out and learn from 43 brave men and women as they share with you their compelling and convincing professional expertise and insights about the events of 9/11.

It's not conspiracy, it's not theory, its science and you owe to yourself, your children and their children to open your mind, your eyes and your ears and listen to what these professionals have to say!
Views: 1,524


By Agence France-Presse
Raw Story
"Never forget!" was the motto of the first responders who rushed to the burning World Trade Center on 9/11, but 10 years on some say they have been abandoned by their country to fight cancer and mounting medical bills.
Once hailed as heroes, thousands now say they have fallen victim to a host of ailments — from asthma to cancer — due to their exposure to the toxic debris pile left by the Twin Towers' collapse on September 11, 2001.
Compensation funds set up by the US government do not recognize cancer as a condition caused by exposure to the World Trade Center clean-up operation, and a political battle is brewing.
"This is almost 10 years later. I mean, how do you praise guys after 9/11 and then just turn your back?" asked Jeff Stroehlein, 47, a retired New York City firefighter who is battling brain cancer after working at Ground Zero.
Views: 1,415


Harold Saive, a Gainesville activist and frequent contributor to The Intel Hub speaks at his city commission meeting.

With Cost of War data supplied from the National Priorities Project the Gainesville City Commission went "speechless" when confronted with the economic loss of $22 million/year as a consequence of accepting 9/11 as pretext for of a decade of war.

Local governments like to pretend that it's not their business to consider how national issues affect local economies even when Cities routinely hire Washington lobbyists to peddle influence for federal handouts.

But when asked to respond to a comprehensive question on advocating a new 9/11 investigation to protect the local economy and the US Constitution, the entire commission chose to abandon their sworn oath of office.


Views: 7,938


Major General Albert Stubblebine talks, in no uncertain terms about the Pentagon attack and 9-11. The General makes it clear that the official story about what happened on 9-11 is pure fabrication.





Views: 1,285


The system is still in a blind panic over the flimsy credibility of the government-approved fable
Paul Joseph Watson
PrisonPlanet.com

One look at your TV guide over the next 10 days will tell you everything you need to know about how petrified the establishment is over the flimsy credibility of the official 9/11 fable.
Naturally, the 10-year anniversary of the attacks would be expected to merit a deluge of media coverage, but what sticks out is the overbearing emphasis on countering so-called "conspiracy theories" about the events of that day, or in other words, reinforcing the official "conspiracy theory" that 19 poorly trained Arab hijackers were able to cripple America's air defenses and make three giant steel-framed structures crumble to the ground at near free fall speed.
The BBC couldn't even wait until the month of September itself to air their latest 9/11 truth hit piece earlier this week, and another is planned for next weekend. The damage done by the Building 7 fiasco, where BBC reporter Jane Standley is seen reporting the collapse of WTC 7 before it happens, a clip seen by millions, prompted the public broadcaster to launch a sustained dogmatic assault on anyone who dared question either 9/11 or 7/7.
Unfortunately for the BBC, the endless stream of smear attacks against so-called "conspiracy theorists" have largely backfired. Doctor Rory Ridley-Duff of Sheffield Hallam University conducted a study of the BBC's "Conspiracy Files" documentary on 7/7 in comparison with the "conspiracy" documentary 7/7 Ripple Effect. His conclusion – the "conspiracy" documentary was more "coherent with available evidence".
But conspiracy hit pieces are not about evidence, they're about strawman attacks, character assassination, and emotional manipulation. This only works as a tool of persuasion on people who have little or no capacity for critical thinking, or on those who are already fully invested in a belief system. Such individuals are of no consequence in the "infowar," as Hillary Clinton herself termed it, that continues to be won by the "conspiracy theorists" no matter how many hit pieces are produced and endlessly repeated by television networks that have lost a great deal of credibility.
Views: 2,499


First responders decry exclusion from 9/11 ceremony
By Jeff Stein
CNN
New York (CNN) -- When debris rained from the sky in lower Manhattan on September 11, 2001, the first responders to the terrorist attack did not turn away. They rushed to the World Trade Center buildings while the world around them crumbled.
Yet now, after all the wreckage has been cleared and the rebuilding has begun, their path is again blocked -- not by flying chunks of smoldering rubble, but by space constraints.
The first responders are not invited to this year's September 11 memorial ceremony at ground zero, New York City Mayor Michael Bloomberg's office confirmed Monday.
It's a painful insult for many of the approximately 3,000 men and women who risked their lives, limbs and lungs on that monumental day, puncturing another hole in a still searing wound.
In a statement, Bloomberg spokesman Andrew Brent said the commemoration ceremony is for the victims' families.
"While we are again focused on accommodating victims' family members, given the space constraints, we're working to find ways to recognize and honor first responders, and other groups, at different places and times," Brent said.
But first responder John Feal, founder of an advocacy group for the police officers, firefighters, civilian volunteers and others who worked at ground zero, assailed Brent's response, saying Bloomberg "lives in his own world."
Please Make A One Time Donation
You can send a check
or money order to:
The KTAO Project
P.O. Box 1086
Crestone, CO 81131
or donate online:

Essential Reading
Declaration of Independence
The Constitution
The Bill of Rights
Citizen's Jury Handbook
Debt Is Destroying Us
Most people don't know the Federal Reserve is controlled by the largest private banks. They are using their control of the Fed to destroy the dollar, our economy and wipe out the middle class so they can replace it with a system and currency they have even MORE control of. If we don't shut down the bankers, the Federal Reserve, this nation is history! The Congress can REPEAL THE FEDERAL RESERVE ACT and return control over our currency to "We The People." We have to take back control of Congress and DEMAND THIS HAPPEN in the upcoming election!
Please Support Us With A Purchase
We have no control
over what ads google displays.